Best Instagram Reels Ideas for Businesses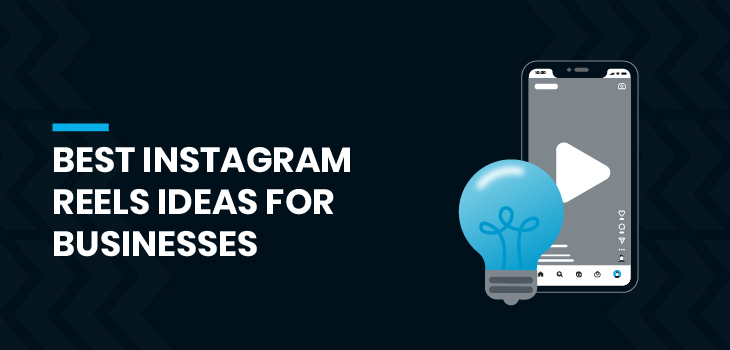 Instagram reels were released in August 2020 and it's been a huge win for this platform since then. Meta has tried to compete with other social media (we don't say which one!) through reels and we should admit that it was a success for them.
Although, we have to keep up with this new feature and ask ourselves What are the best Instagram reels ideas for businesses, and how we can get more engagement with the help of reels?
What video settings are best for Instagram reels?
If you want to use reels for your account, do it in the right way. You have to be aware that you're not the only business that thinks to use reels for capturing more audience.
Therefore, in the first step, use these parameters to create an outstanding video for the reel:
Video format: MP4
Codec: H. 264 or HEVC
Audio codec: AAC audio
Bitrate: 3500 kbps
Frame rate: 30 fps
Length: 60 seconds MAX
Width: 1080 pixels MAX
Height: 1920 pixels
Instagram Reels Ideas for Businesses to Grow
Reels are the Instagram strategy to target GenZs; which are the younger audience from the mid-to-late 1990s and the early 2010s. These groups of the audience are now 14 to 25 years old mostly. They enjoy the real side of life. Although, that doesn't mean people from another generation wouldn't enjoy reels.
Therefore, with all of this information, we are going to learn you have to use a reel on your Instagram business page that helps you grow your followers. Here are some unique ideas for reels:
Show clear crystal of your Business
People love transparency. They want to see the real side of your business. This way, they feel more related to you. They don't like some perfect flawless unnatural thing. So, share the good side and bad side of your everyday business with them.
Share Mini-Vlogs by Instagram Reels
Creating vlogs is one of the best ways to communicate with your followers and get more engagement. Technology, cooking, lifestyle, gaming, beauty, fitness, and travel are some of the favorite topics of vlogs. Also, the tutorials by the name of do-it-yourself have a lot of viewers on social media.
Although, reels have a time limit and you can use them for vlogs but you can try mini vlogs which are quicker and have their own fans.
Promote Your Projects
This idea is our favorite. You can use reels to promote a new project in a short 60 seconds video. Use viral songs and get ideas from new trend challenges to promote a product or service. You might go viral and be seen with the spending of few costs.
Share Behind the Scene Footage
Bring your followers behind the scene with yourself. This could be part of your transparency with them and make them feel more related to you. Recall the fashion magazines and how they picture their models with all the mess in the background, or some scene-behind-the-scene challenges that get lots of views through the past year.
So, don't feel embraced or shamed, people are going to love yours behind the scene reels.
Use the Instagram Reels Features
When you are going to create an Instagram reel, this application will give you some ideas, for example, collaboration. You can team up with other brands or influencers to share and join their reels, Or use front and back cameras to create a reel, etc.
You can browse all over you're Instagram application and take some helpful ideas from the app.
Share Your Instagram Reels in Resont
Resont is a social media management tool and it would help you schedule and publish your posts through all your social media accounts. We are happy to share that scheduling and posting Instagram reels are available in Resont. You can sign-up for free in Resont to try our amazing features.