Most Effective Digital Marketing Tools to Grow your Business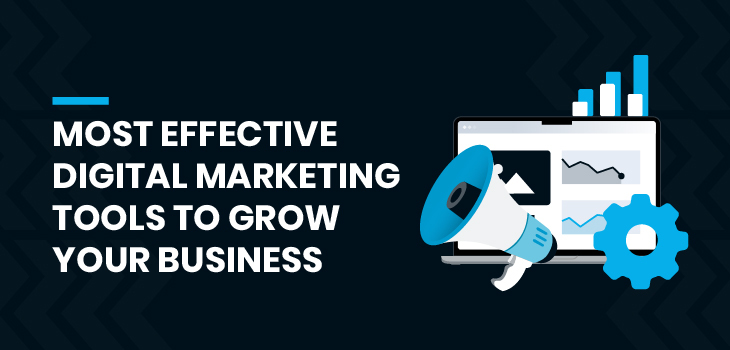 In this blog, we are going to name some of the most effective digital marketing tools that will help you grow your business. 
These days, with a diversity of social media platforms and google rules for optimizing websites and etc, Digital marketing has become confusing. Obviously, with a large team, we can grow our business; but a large team is could be really expensive, so this is when digital marketing tools become handy. Digital marketing tools would support your email marketing, help you with optimizing your search engine, gives you useful analytics data, improves your website and social media design and etc.
Keep up until the end of the article, we're going to introduce some of these effective tools which will help you raise your game.
GetResponse | Email Marketing Tools
By using this tool, you can use the following facilities to develop your business and use digital marketing tools in a way: Creating a contact list and collecting the required information about them Creating different newsletters and sending them to the target audience Ability to use the autoresponders feature to send automatic responses Get an analysis of the performance of your email marketing campaign Of course, recently this tool has expanded its field of activity and is also active in the field of hosting webinars, landing pages and customer relationship management system or CRM.
SEMrush | SEO Tools
SEMRush helps optimize various sites for search engines and also allows companies to run digital marketing campaigns such as SEO, PPC, social media, and content marketing campaigns. SEMRush has a lot of information such as trends in your industry, opportunities to create links and backlinks, valuable keywords for your campaign, keywords used by competitors and how they are ranked in the search engine, new content that is more likely to attract good traffic, …
Also, this tool can show you the degree of difficulty of specific keywords or search terms. SEMRush also inspects your site's internal SEO, allowing you to understand your page better and optimize it for SEO.
Google Ads Editor | Paid Search & Social Tools
With the help of this tool, you can modify your campaigns offline. Offline campaign management helps you change it with peace of mind. In other words, you can easily go back to the previous settings after any mistake. This software is very useful for managing several different campaigns. You can use it to make bulk changes to one or more Google Ads accounts.
Google Ads has become one of the most common and popular platforms for running advertising campaigns. Achieving the goals of advertising campaigns depends on the management and evaluation of results. For this reason, Google provided a free tool called Google Ads Editor to make the campaign management process easier.
Google Analytics | Data & Analytics Tools
Google Analytics is a site analysis tool that Google has provided free of charge to webmasters. This analytical tool can provide website administrators with complete information about incoming traffic, user behavior on the site, conversion rate, and generally useful information and reports. Information can play a very important role in optimizing a website and its development.
This tool allows you to monitor your site, blog, and social networks and information such as user login, user behavior, conversion rate, time spent on pages, device type, and everything that happens on your site or blog.
Trello | Marketing Management Tools
Most of the applications that are designed in relation to task management are usually either very superficial or very complex. If you want to specify the description of tasks as completed, not completed or in progress (with details of work progress), these applications will not meet your needs. To achieve this goal, one of the traditional methods, which of course does not benefit much from technology, is the use of note papers that you can stick on the desk, whiteboard, etc. so that you always have your tasks ahead of you. To use the same method in the style of today's world, you can use Trello. Trello is a web-based software that is as simple to use as your colored papers, with the difference that it provides you with more extensive possibilities in managing tasks, especially if it involves group projects.
Canva | UX and Design Tools
Canva is a graphic design platform that allows you to easily create invitations, business cards, announcements, curriculum, backgrounds and more using professionally designed templates.
You can even upload your own photos and add them to Canva templates using drag-and-drop tools. It's like having a basic version of Photoshop for free and you don't need extensive photo editing knowledge to use it. Here's everything you need to know about using Canva.
The important and remarkable thing about this tool is that you don't even need a graphic designer. This app gives you access to thousands of different templates. Now your design is up to you, you can design and use almost anything for your business.
This tool gives you access to everything including required photos, fonts, videos, music, and even graphic elements and icons that will definitely make your design attractive.
Soapbox | Video Marketing Tools
One of the video creation tools is Soapbox. This video content creation tool is a Chrome extension that acts as a video hosting service. With Soapbox, you can create and share your own videos in your browser without the need for technical skills or experience.
ChatGPT | Content Management Tools
ChatGPT is the latest "Language Model" (Language Model) based on artificial intelligence provided by OpenAI. This article is a comprehensive guide on how to use Chat GPT, the virtual assistant. In this article, we will first answer the question of what ChatGPT is, and then you will learn about how to access and use ChatGPT in Iran, how to start working with it, the main and important uses of ChatGPT, and its benefits. By reading this article, you will learn how to use ChatGPT to your advantage to progress in your field of activity and benefit from its benefits.
HootSuite | Social Media Marketing Tools
HootSuite is a social media management tool with features to help plan, schedule, and consolidate social posts. Key features include automatic scheduling, social media monitoring, performance reporting, basic activity management, and more.
Resont | Another Great Social Media Marketing Tool
Resont helps you manage multiple social media accounts more efficiently and spend more time producing innovative content. having organic communication is always a good way to increase engagement across all platforms and we would like to help you achieve that. Also, Thanks to the scheduling feature, you will be always on time for posting. In the end, we all know the purpose behind all this, is to make a profit. So, we assure you through Resont you can increase your engagement which leads to more sales and a bigger profit.
Neoreach| Influencer Marketing Tools
Neoreach's database contains information about more than 3 million influencers, and their main audience is also big businesses. To begin with, it is necessary to search for a keyword related to each brand or business on the platform in order for the results to appear, then it is necessary to improve this search result using a range of factors, for example about the social channel and metrics. Social search.
With the help of this information, influencers can be classified into different categories and groups. In addition, Neoreach uses business intelligence to select the most suitable influencer to match the needs of each business.