Social Media Marketing Strategy for Businesses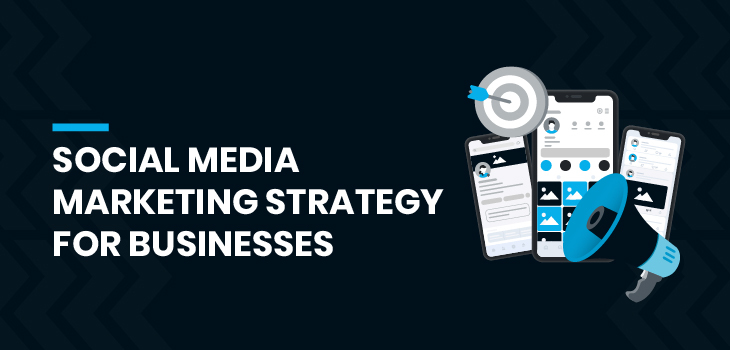 Social media platforms are more saturated and competitive than ever, but there is no need to give up on that. The number of social media users is big enough for giving a chance to all marketers to thrive. Although achieving that goal requires having a strong social media marketing strategy. A strategy works like a road map and you know what steps you are going to take.
Stay with us until the end of this article, we are going to give an effective road map.
Step 1: Define your Objectives
Every strategy leads to achieving some objectives. therefore, you have to define your objectives first.
The objectives should be determined based on your organization's priorities. So, ask yourself what your organization is all about. Then, you can find out your overall marketing plan.
You must define qualitative and quantitative objectives. They have to be S-M-A-R-T which means specific, measurable, achievable, relevant, and time-framed.
Step 2: Identify your Audience
Of course, you all know that defining objectives and identifying an audience is not exactly part of social media strategy, and you need to for your overall marketing plan. But, we suggest you rethink throw them and this time, focus on the social media part.
The audience of each social network is different from another. For example, Facebook and YouTube are the best platforms for advertising. Most of the users of these two social networks are active in order to earn money.
Most of the users of Instagram and TikTok are generation Z. These people were born between 1990 and early 2010, and they are also called the Internet generation. In fact, most of the users of these two platforms are young people who want to get amused most of the time.
Women are twice as active as men on Pinterest.
More than half of LinkedIn users are educated people with relatively high social and professional status. This means that users of this platform expect to see and read deep and professional content on it.
These all show how important is to Identify your audience on social media strategy marking.
Step 3: Start with One Platform
Start with one platform and work your way up from there; depending on the type of content that will suit your business best. Don't indiscriminately join every social media platform because others are doing it.
Social media can be a great way to connect with customers, but it takes a lot of effort to set it up and maintain it. So, it's a wise decision to not run all your social accounts at once and try to gain your audience on relative platforms one by one.
If your product is something like food, it's better to start with Instagram or TikTok, where you can post photos and videos of your food. But if you focused on education, Facebook or Youtube would be better options.
Step 4: Plan your content
This step helps you to manage all your content in a better way. We recommend planning content a month in advance, no more is needed because lots of things going to change and you might want to update your strategy; so one month is sufficient. Remember your schedule is not exactly going as planned and you probably have to squeeze some spontaneous posts into your planning content. That's normal. Also, be consistent on your one-month planning content.
So you can engage more with your followers and build your community of loyal customers.
Step 5: Keep an Eye on your Competitors
Your competitors are your best friends on social media. They'll help you with every aspect of your social media improvement. You can learn from their behaviors what works and what doesn't.
Scroll the comments people are leaving for them. this gives you lots of ideas to create content. See how your competitors engage with their followers, what kind of content they do most, etc.
Make a list of other accounts similar to yours for this purpose.
Step 6: Create quality content
Is it quality over quantity or the opposite? Don't waste your time answering that, none of them is above the other.
You have to be consistent on social media at the same time, you must create quality content.
Don't try to sacrifice one for another, it's a not-working strategy. Instead, you can use one of the social media managing tools like Resont to save more time. This way you have a lot of time to think is your content providing value?!
Are you posting something worthy to watch?
Is your content educational? Is it funny?
What sort of value does that give your audience? Whatever your content is, it must add value to them.
Step 7: Start Engaging with your audience
Engaging with the audience is an important step in social media marketing strategy; not just with the purpose to sell, but because it's a polite thing to do when you invited people to follow you or subscribe to your account. You have given them a feeling that you're there and you're going to answer them as soon as possible. This way they will feel more connected with you and they trust to buy your services, products, or what you suggest them to buy.
Also, remember every social media platform is measuring your engagement and when you have a high rank, your posts will be shown to more people.
So, not only answer them but encourage the to engage with you. Ask your followers what they like, and what they think about your content, and create challenging content that leads to the conversation.
Step 8: Communicate with other Marketers
Social media is a platform to communicate and if you follow that simple rule, you will get more reach and more audience. Comment for others' posts, not that fake lovely comment like haha, that's great. Try real communication, talk to influencers and other brands, and show the support you have for them.
Step 9: Get started
Last but not least, it's time to start your marketing on social media. We all know how overwhelming it could be, but when you have your strategy, when you planned everything; just get started.
You will learn a lot on your way to your goals, your objectives. You definitely going to update all the plans you made, and on the path, you might switch to other social media platforms or give them a try as well. All of this is great and will make your strategy stronger.